Brief History
If you have read my post I posted two weeks ago, you may remember that I got Nokia BH-905i with a review unit of Nokia E7. I really thank kind guys at WOMWorldNokia for sending me this along with Nokia E7 even without me asking for it. I am really grateful for this.
---
About BH-905i
No matter if you are an office person or random guy, you use phone either to listen to music or for call purpose quite often and having a wireless headset may look quite pleasant. At the same time, cordless headset brings the fear of low quality audio to mind. Well that was the past; nowadays you find many Bluetooth Stereo Headsets offering great sound quality rival to the wired stereo headset. When you are considering such headsets, you may no miss to count Nokia BH-905i. BH-905i is the successor of BH-905 with many improvements to its design and quality.
BH-905i possesses some impressive specifications. One of that is Active Noise Cancellation with it's 8 dedicated microphones to cancel out background noise and 2 microphones for speech capturing and advance digital signal processing providing you clear communication experiences. Other features are nice audio quality, elegant design, wide compatibility, etc. But does it meet all our expectation very well? Let's see.
---
Carrying Case
Nokia BH-905i comes with a very well made Nokia Carrying Case CP-511. Case is big enough to hold all the contents very well but at the same time quite compact for mobility.
I am really impressed with the quality and design of the Carrying Case. All contents can be placed very well. You will notice, there is another small leather case. Inside this small case, you will find different adapters and chargers. This small case is divided in two compartments one holding the chargers and wires and other with adapters.
Overall, whole carrying case is very nicely designed, portable and hard enough to keep the lovely BH-905i safe.
---
Sales Package 
Sale package contains following items:
Nokia Bluetooth Stereo Headset BH-905i
Nokia Carrying Case CP-511
Nokia Audio Cable CA-143U with 3.5mm Nokia AV connector (~1.2m)
Nokia Audio Cable CA-182U with 3.5mm iPhone compatible connector (~1.2m)
Nokia Extension Audio Cable CA-144U (~1.7m)
Nokia AV Adapter AD-52 for 2.5 mm Nokia AV
Nokia Audio Adapter AD-63 for standard 3.5 mm jack
Nokia Adapter AD-71 for airplane
Nokia Adapter AD-70 for 6.3 mm home stereo
Nokia Audio Adapter for Voip AD-77
Nokia Charger AC-15
User guide
---
Design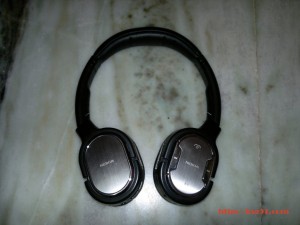 Another thing from Sound Quality, design is the second most important thing anyone will look for. And yes, design of BH-905i is pretty nice. Design is stylish and most of the audiophiles will love it. BH-905i is available in two colors: White and Black.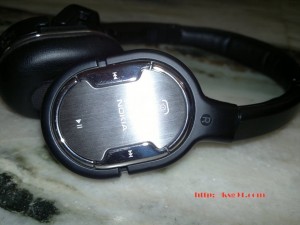 Headset contains regular control buttons like play/pause, forward, reverse and a multifunction key for power on/off, call management and stereo widening on/off,loudness on/off. Buttons are real smooth and easy to use.
This design really gives a sexy look to headset with great comfort and at the same time providing easy access to all of the functionality.
Design of BH-905i is quite flexible and you can adjust it as per your comfort. Earpieces can also be tilted two way, making it usable for any size of head or ears.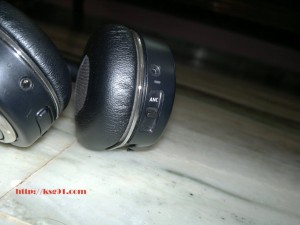 Left earpiece contains a toggle switch to turn on/off Active Noise Cancellation feature. A green LED will show you if ANC is active or not. Another slot you seeing above it is for charging. It's 2mm charging slot, often used in most of the recent phones of Nokia.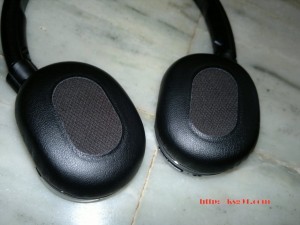 At first look at the padding over earpiece, I was bit worried if this padding will be fine enough to block noise, if this padding will provide proper isolation to surrounding noise. But as soon as I wore it over my head, my fear was just gone. Believe me, don't judge by look, it provides perfect isolation.
Overall design would be quite pleasant. However, some people didn't find design much appealing but it's their personal choice. I agree, design could have been made more beautiful, but still its quite nice. I would give 7.5/10 for the design.
Performance
Pairing
Pairing of BH-905i with any bluetooth device is quite easy and simple to do. Hold multifunction key until you see blue light blinking rapidly. This will turn BH-905i on in pairing mode. Now simply search for BH-905i in the device you want to pair with and select pair. All rest of the things will be done automatically. I successfully paired with all my devices, Nokia N8,E7 and a Laptop without any hassle. In my case, it didn't ask for any pairing key/pass key, but if asked, you may try 0000 as default key.
Sound Quality
Nokia E7 + Nokia BH-905i + Greenday's 21 Guns = Me screaming the song == Neighbors getting frustrated! 😉
The most important factor for any headset would be sound quality. I must admit, BH-905i just blow it. Its sound quality is very nice, crisp and clear. I am not an audiophile so I would not be able to take this points too technical and won't compare with other high-end stereo bluetooth headsets but as a simple music lover, it is superior for me. It's even better to  the wired headset I have used and I own. Here, I am comparing BH-905i's sound quality over Bluetooth connection. Sadly, I am not able to try them over wired connection because wire connection cable  came broken (probably got broken during custom check), but I believe, sound quality over wired connection would be better than this.
During listening the music, I have not faced any sort of distortion in quality of music. During voice call, quality is just perfect, clear.
Couple of persons, over internet, reported that sound quality is not clear and it is tinny while used with desktops or laptops. I already used it much with my Dell Studio 15 and I saw no such problems with BH-905i. Music quality was same, clear and crisp. I wonder what made them say so, probably poor audio source? Whatever but it is not true as per my experience.
Sound quality is just perfect for me.
Bluetooth Connectivity Range
Bluetooth range of BH-905i is really nice. You may roam in other rooms without worrying about connectivity. I was on first floor and my phone was on ground floor and with little cut offs music was playing good. You may easily roam in adjacent rooms without having to worry about bluetooth connectivity. However Bluetooth headsets are not meant for far-way usage but BH-905i is good enough to give you nice area of coverage.
Multifunction Key 
As name says, this key holds many functionality. Let me tell each one by one.
While Device is off
Pressing it for about 2 seconds may turn the device on.
Pressing it for about 5 seconds will turn device in pairing mode
While in On condition
Pressing it for about 5 seconds would switch off the device
For communication purpose
single tap when a call comes would pick the phone up
double tap can be used for redialing of last dialed call
holding for 2 secs enable voice dialing mode
While listening to music
first tap would start bass boost mode on (notified by a single beep)
second tap would start stereo widening on (notified by two beeps)
third tap would start both, bass boost and stereo widening on (notified by three beeps)
fourth tap would turn off them (notified by a long beep)
Active Noise Cancellation
You guys  must be waiting for this part to come but one thing I would like to clear is, this is first time I am using a headset with ANC feature and so ,do not expect my comparison with other headset with such features.
As I mentioned  earlier, BH-905i has 8 microphones that do this job. Obviously, this count isn't a small. These 8 microphones helps to cancel out almost 99% of the noise. I have used it at several noisy places and the result was amazing. ANC was elimating almost all the noise and all you hear is the pleasant voice of the one with whom you are talking.
At this moment, I am wearing the headset with ANC turned on. There is noise of a fan, some construction work going on outside and some vehicles passing by on road but all I hear is nothing, just peace!
This features really helps when you are at some crowded or noisy place and need to  talk over the call. You have no trouble hearing what the person over the call is talking and its 2 speech capturing microphones with DSP help sending clear voice over the call. You may use this feature at some noisy place just to relax or have some peace.
Nokia BH-905i would make you feel like a deaf with ANC when needed. 😉
All I can say about this is you will get top-notch performance from ANC feature of BH-905i that you can wish from any ANC device.
Compatibility
BH-905i is compatible with
devices which support wireless Bluetooth technology:  Bluetooth Specification 2.1 + EDR, Headset Profile (HSP) 1.1,  Hands-Free Profile (HFP)1.5,  Advanced Audio Distribution Profile  (A2DP) 1.2 and Audio/Video Remote Control Profile (AVRCP) 1.0
all Nokia devices with 3.5 mm Nokia AV
supplied add-on adapters:  All Nokia devices with 2.5mm Nokia AV, music players,  PCs and other devices with standard  3.5mm jack, home stereos with standard 6.3 mm jack, airplane players
All I would say is, you don't need to worry about compatibility of BH-905i, its widely compatible.
Battery Life and Charging
This all things,obviously, won't work without power and hence BH-905i will need power for all this purpose (except one scenario). BH-905i possesses a rechargeable 600 mAh Li-Ion Polymer battery, giving you nice operating time.
You can use BH-905i for 600h in standby mode with bluetooth on. You can listen to music for 25h with ANC off and talk for 24h. With ANC on, you can still use it for 15h, which is quite nice IMO. You must be thinking about which scenario I mentioned above.Well, I was taking about wired usage. You may use it without any battery on wired connection for unlimited time, however ANC won't work (that's obvious!). So battery life is very satisfying.
Charging the almost empty battery didn't even take 2 hours to charge fully. Low battery will be warned by blinking red LED. While charging, LED would be red and on charging getting completed, it will turn green.
Comfort
I have used many headset and experience with many of them were, head and ears aching after wearing for about an hour. Same doesn't apply here. I wore it for around 2.5h and such effect was minimal, almost negligible. One nice thing about this headset is  that sometimes you don't even  feel that you are wearing a headset because of its flexible design and light weight ( 167g).
Conclusio

n
I will highly recommend this device. Considering its price £243  (according to review agreement) , it will look overpriced and expect  more at that price. But same is available on Amazon at $179.99. At that price, it is highly recommended. You won't get such a great piece of hardware at this price except BH-905i.
I really enjoyed the company of BH-905i and it won't be easy for me to say "bye bye" to Nokia BH-905i.
I will really like to know your thoughts on this device. Do post comments. 🙂