Overview
Ever wondered which star you're looking in sky at night or ever wanted to know about any star or planet you've looked? Well, then Astroller is here for you. All you got to do is to point your phone at the sky and Astroller will identify the object you're looking at. It doesn't only identify the object, but feeds you with the details of the object. Astroller uses the GPS and compass to provide you the best accuracy you can expect from any app. Read more to discover what Astroller can do.
Author: Heliotrope
Version Reviewed: 4.0
Price: Rs. 50
---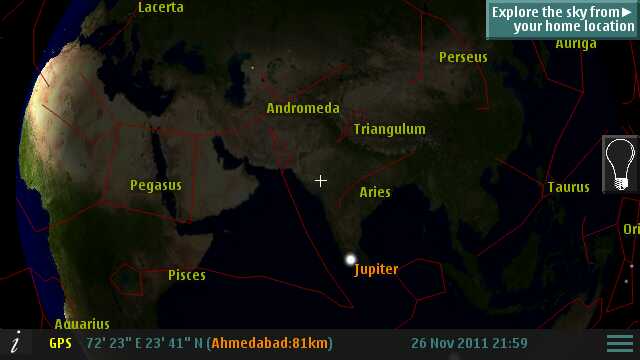 Starting the Astroller app, you will get a 3D view of Earth. Your location will be fixed using GPS. You can spin or drag the glob to go to the desired place. According to real situation, Earth will be shaded showing you the day and night in particular region of the earth. You can tap the bulb symbol to lighten all the regions. Status bar at the bottom gives you the co-ordinates and GPS status. It also show you the current compass bearings. Button at lower right corner brings up the menu.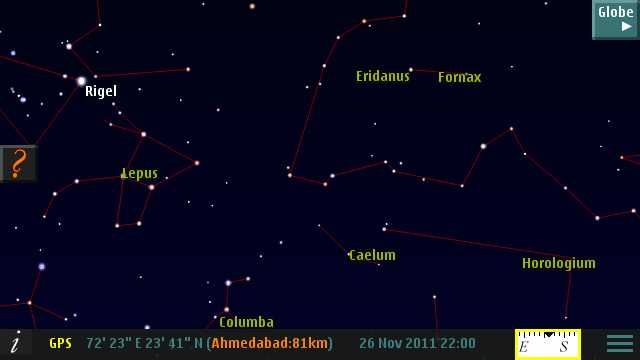 By hitting the Explore sky from your home location, you enter the sky view mode. Just point the phone to the sky and you will get the names of all objects. You can move around your phone and point to different objects and you get the object on your screen at which you are pointing the phone. GPS and Compass make it very accurate and it feels like you are watching the sky using Augmented Reality (but sadly not). You can also use touch to drag the sky to find different objects which are not in the line of sight. Tapping on the symbol like question mark at center of left side, it allow you to select the object about which you want to get info.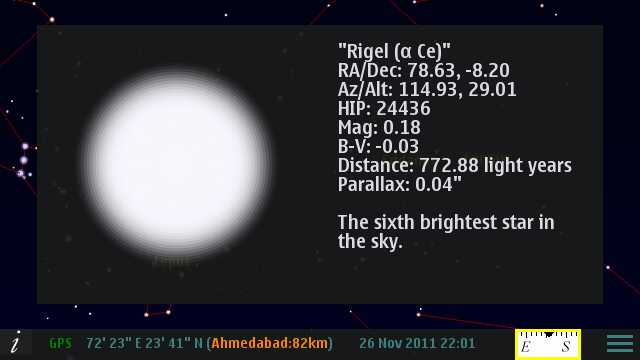 Info is shown as in the screenshot above. Various scientific details and facts are available.
Another ability you get with this app is that, you can also explore the sky from any location on the earth, as if you are standing there. But this won't allow the use of compass to explore the sky, you will have to use touch to roam around in the sky.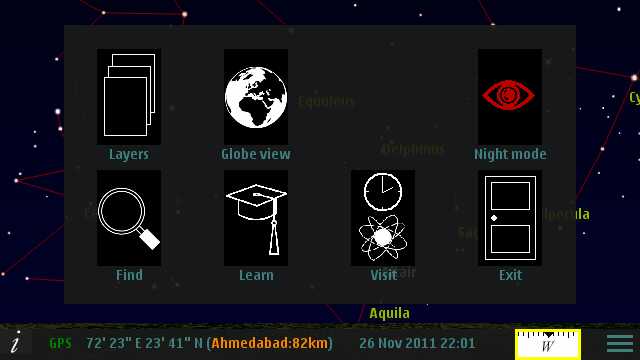 By opening the menu, you get several options. It allows you select how much layers to show, you can go back to Globe view or back to sky view. You can also visit any location on the earth on particular time. YES, that means you can view sky from any point and see how the sky was looking like at particular time by setting location and time. This feature will be interesting and helpful to many people to observe the sky at desired place and time.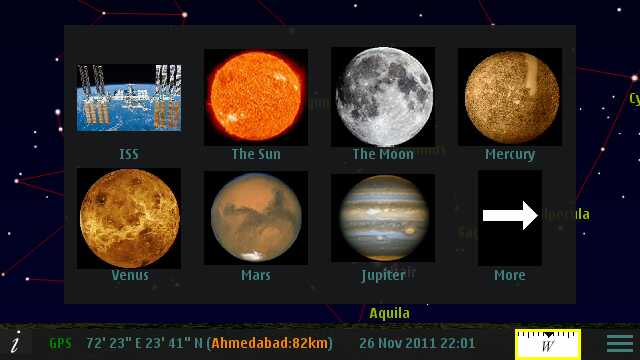 Learn option let you learn or find details about the planets, stars and ISS by selecting them from the list.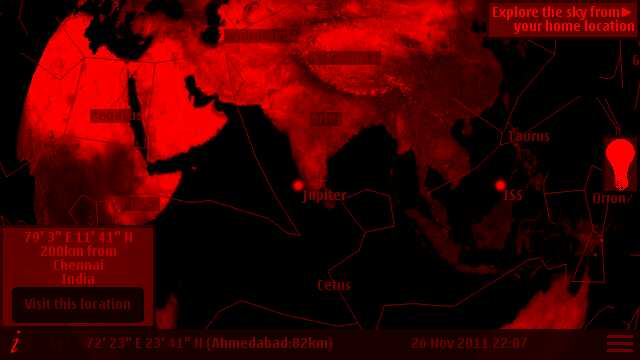 Night mode can also be turned on from menu. It will make the skymap reddish giving you better view until you eyes are set to the brightness in the darkness! Other option available is Find object. If you are looking for a particular object, you can search for it and read more about it, no need to manually search in sky or list.
Version 4.0 of Astroller adds one more interesting thing, which is data for ISS. International Space Station (ISS) is an artificial which circles the earth in low earth orbit. Astroller will also show you ISS in the sky. Going to ISS setting, you'll know when next ISS will be visible from you current location.
As an conclusion, I can say no matter how much you are interested in astronomy, this application is going to be very informative, helpful and interesting to use with its integration of real view using GPS and compass. Considering the price tag, this app  really worth buying. Experience is going to be very nice irrespective of how much knowledge in astronomy you have or what type of user you are.
You can go and buy the app from Nokia Store here . Don't forget to share your experience.