"Battery Low!!" We always feel worried seeing this message on our phone, especially when we are out door. Gadget geeks' power hungry smartphones always crave for more power! And there comes the batteries from the well known company for extended batteries, Mugen Power Batteries. They produce extended batteries (upto 4800mAh for Motorola Atrix!) for almost all smartphones but… but Nokia N8. Well, it isn't their fault though. Nokia N8's non-user removable battery design makes too hard to fit any batteries thicker than original battery.
After many request from N8 users, Mugen Power Batteries decided to start research for possibility of developing extended batteries for Nokia N8 only if they get 500 votes on twittion.
But before even they reach 500 votes, they said this to me in one talk,
@ksg91 This is currently in discussion. We have collected enough votes on twitition to initiate the development evaluation
They told me that they will post result soon. But as rumors said, they may make 2000mAh battery. Asking them about this, they
@ksg91 I think it's not going to be 2000mAh but around 1500mAh. N8 is not too flexible for extension as it turns out.
Couple of days ago, I asked them about this and they replied that they haven't come to any conclusion yet but result will be available soon.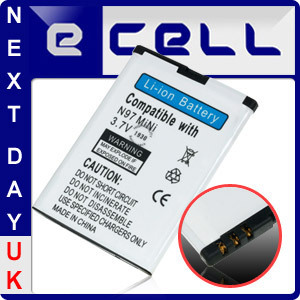 But today, while wandering over the Internet, I came across extended batteries for Nokia N8! Yes, extended battery of 1930mAh. The possibility of extended battery more than 1500mAh was  declined by Mugen Batteries while the product I come across claimed to be of the same size of the original battery and still having 1930mAh power!


The product is on ebay UK.  The product costs just £6.15 (Rs. 400 only) . Here is the link to battery: http://l.ksg91.com/owWhjG
Looking at the price and other factor, product seems to be unrealistic. If anybody have any information about this, do comment here. 🙂