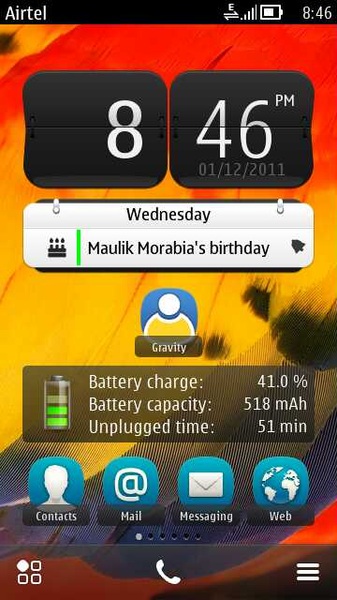 Symbian Belle for Nokia N8 appeared for sometime on Navifirm and some users managed to download it and uploaded to  file hosting sites as I mentioned here , I, losing all the patience, flashed it to my N8. It is said to be official Firmware for T-Mobile. How ever I encountered some bug / malfunctioning of this.
Last night, I installed Gravity and Swype only. But in the morning, when I tried to open Gravity from Homescreen, shortcut wasn't responding. I thought to open from menu but encountered error: "Homescreen: Application can not be run because of security reason". After all this, I thought to restart my phone (a standard method to solve issue in Symbian 😉 ). After phone started, I couldn't find Gravity or Swype in my phone, they were gone! I downloaded Gravity again and installed. After installation, when I started Gravity, my all accounts I added previously was there! This is strange, because if application existed, I would have been asked to overwrite it! However, old data was still there!
I was still not sure if this happened just to me, but a twitter user @TKay_88 also said he faced same thing on his Symbian Belle for N8! I won't consider this to be a serious issue and comparing to the fun of Belle, I can surely ignore it.
Apart from this, I have not found any issue with Belle. Phone has become amazingly fast and new UI is awesome! I must say, I am in love with Symbian Belle! 🙂
Did you guys find any problem with your phone? Do share here. 🙂